Become Part of a Movement That Brings Food to Every Table, Schooling for Every Child, and Decent Income for Their Mothers.
Pune, one of the largest urban regions in the state of Maharashtra, India. The municipality is home to a large informal waste recycling system, in which many female waste-pickers operate. Since the informal sector lacks regulations, women often do not receive fair income and working conditions. On the other side of the medal are large companies who make enormous profits, whilst turning a blind eye towards CSR-risks in their supply chain. Such risks include child labour, safety hazards, and unfair incomes. Our consortium partners are clear upon the matters: this requires change.
That change will be the foundation of the business case of "Miss Collect", which will sell a sustainable and child labour free wastepaper products. 
In order to move the women further up the wastepaper value chain, their input is essential for and stands central in the cooperative. The female waste-pickers are fully included in the recycling process, and ownership of the paper product comes to them.
Current research that we conduct will shed light on the wastepaper market, including its demands and supplies. On the basis of this research, input of women and key stakeholders, the recycled papers products will respond to the demand. 
SDG 8 DECENT WORK : Empower female waste pickers to operate the recycling installation. This way they can move up in the value chain
Change does not occur automatically; we are aware of that. Our mission is that female waste-pickers are empowered through Miss-Collect, benefitting them and their children. Since child labour is an intergenerational challenge, change is necessary at the root of the problem. The consortium wants to realize a difference in the following ways.
detect
Develop a child labour alert that detects and tracks-down children that are engaged in economic activity. The alert can be used to prevent child labour and when it occurs, connect children to positive prospects and alternatives.
Protect
Support day-care and primary schoolings program voor child labour victims. In order to provide the children with more prospects for their future, it is of significance to provide the opportunity to go to school and receive an education.
Connect
By incorporating female waste-pickers in the recycling process of a sustainable and child labour free product, they will receive fair wages and working conditions.
Impact
Providing adequate wages works poverty-alleviating and decreases the necessity for child labour. Instead, children can go to school and receive an education.
SDG 8, Objective 8.7: eliminating child labour by 2025.
Learn more about waste paper industry
Sustainable-Minded People
Change does not occur automatically; we need a pro-active approach. Miss-Collect aims to produce 'packaging with a purpose'. In other words , we will become a sustainable business, whose products tell a story. The wastepaper collected by the women is the input, our source. The wastepaper will then follow a process of recycling and manufacturing, with the final end child-labour free product as the 'output'.
We employ our activities with a team of motivated and sustainable-minded people. The consortium partners' have expertise in the field of child labour, woman cooperatives, recycling (waste)paper and sustainable product development. Within the goal of Miss Collect's Packaging with a Purpose, we work hard to get new partners on board, expanding the breadth of sustainable wastepaper step by step.
SDG 12: RESPONSIBLE CONSUMPTION AND PRODUCTION: Sustainable businesses provide for responsible consumption and production. Miss-Collect wishes to develop a sustainable business case for recycled wastepaper products.
Telling Stories that Matter
It is not that women do not want to see their children in school, they simply cannot afford to do otherwise. It is shown that children working as waste-pickers are children from waste-pickers themselves, making this an intergenerational challenge. To break this vicious cycle is extremely difficult. From this vision, the idea of Miss-Collect arose.
We now want to tell stories that matter, stories of children and their mothers, the female waste-pickers, the workshops that we hold, activities we employ and our numerous volunteers.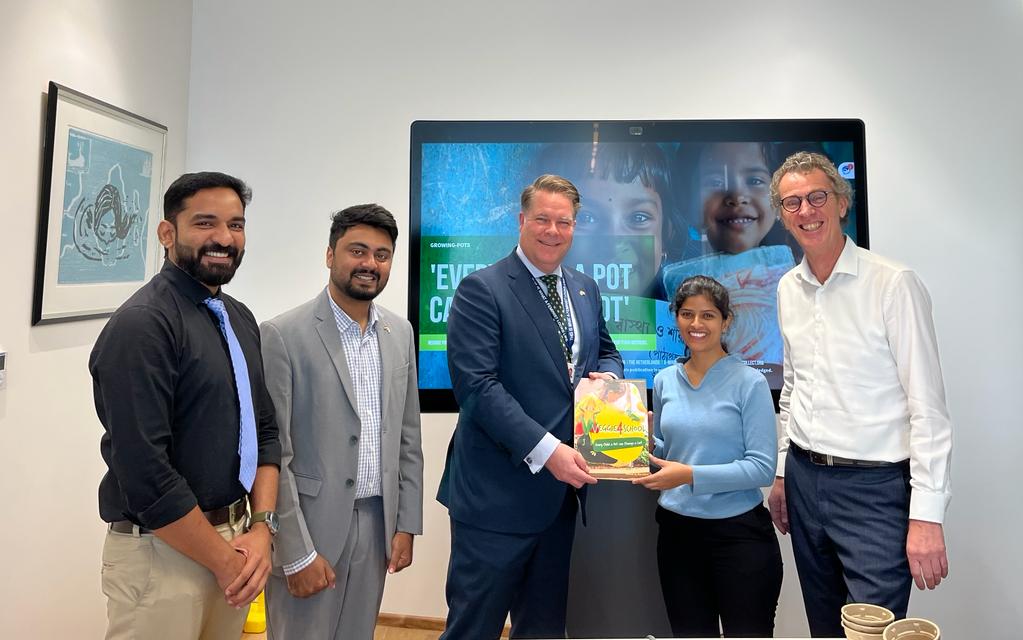 "Every child a Pot can Change a lot,"🌟Today, the Miss-Collect team had the opportunity to present our Veggie4School programme to the Dutch Consul General of South India. We explored potential collaborations with Dutch companies in Bengaluru, emphasising our commitment...
Pictures shining from Srirampura! 🌟Today, with the green light 🟢 from our Green Detectives, we're excited to reveal the cherished moments of our recent Veggie4school workshop in Bengaluru. 15 Students from GHPS Srirampura school: Charan, Karthik, Gagan, Nagma,...
Community of Equal Stakeholders
The community of stakeholders is inclusive and diverse in its nature. No distinction is made between sustainable companies or passionate individuals, all are of large value to the Miss-Collect Community. We believe in the power of collaboration for effectiveness, problem solving and innovation. The focus in the following paragraphs will be on the initiative-takers.
Ciparo (Rotterdam-Netherlands)
CIPARO is a Dutch enterprise that  imports and exports old paper since 1992 from Europe, USA and Japan to India, Indonesia and Vietnam. The company's concerns are focussed on the lack of awareness that currently exists regarding child labour in the used paper industry. The absence of regulations and certifications is especially worrisome.
Swach (Puna-India)
is a cooperative of 3500 Waste Pickers, which in collaboration with local municipalities annually recycle 70,000 tons of waste. Swach Coop only works with Waste Picker aged 18 and over. In addition to ensuring fair and transparent compensation, they assist Waste Pickers in accessing childcare and primary education, in order to prevent child labour.
Kashtakari Panchayat (Puna-India)
is a Charitable trust with 10 years of working with female waste collectors and other informal sector workers in India. The trust primarily supports waste pickers and their families and their collectives. The support ranges from direct financial assistance to indirect support in the form of training, facilitation and research.
Bioodi (Roterdam-Nederland)
is specialized in production and distribution of sustainable disposables for the food industry which have a low environmental impact on our earth. Bioodi only uses 100% renewable and sustainable materials in their products, thereby preventing the use of fossil-based plastics in disposables and packaging. The production and distribution are CO2 neutral, which means that they use 100% green energy in their production.
Impec (VOorburg- Netherlands)
As the initiator and inspirator of the Miss-Collect Community, IMPEC focusses on realizing a positive impact on the world through the identification and implementation of sustainable programs. IMPEC's programs have a focus on the self-sustainability of the ones, especially women, involved. This contributes positively to social, economic and environmental values.
Summarizing, our mission is to achieve self-sustainability for female waste-pickers. Our approach stems from the strength of the female waste-pickers. Their lives, and the improvement thereof, is the primary goal. Self-sustainability brings financial assurance for families, independence for women and prospects for future generations.
Whilst giving financial donations certainly help, this eventually runs out. Instead, contributing to the self-sustainability of women helps for a lifetime. From generation to generation, mother to daughter, Miss-Collect will contribute to the independence of powerful women.
By sharing ownership and incorporating the female waste-pickers completely in the recycling process, they will receive value for the work that they do.
SDG 8 DECENT WORK: By receiving fair income and work conditions, female waste-pickers achieve more self-sustainability.
Help to Prevent Child Labour
Together We Can Make a Difference